Updated 11/18/2020
An audio file is embedded as an attachment to a PDF document that is entered on the docket. Registered CM/ECF users who are attorneys of record on the case will receive a "free look" when the PDF is accessed through the Notice of Electronic Filing (NEF). PACER fees apply when the audio is accessed through PACER.
Technical Requirements
Even though you can open and view PDF files within most Internet browsers (Explorer, Edge, Chrome, Firefox, Safari, etc.) you must have Adobe Acrobat installed on your computer to access audio files that are embedded within PDF documents. Most versions of Adobe Acrobat (Reader, Standard or Pro) are compatible.
Set up your computer so that PDF files always open in Adobe Acrobat, and not inside your browser's PDF viewer. This will make accessing the audio attachments much easier. Click here to view set-up instructions provided by Adobe.
Accessing Audio Files
Click the Document Number hyperlink from the NEF or from the docket report.
When the PDF displays, click the Attachments tab or paper clip icon.  Don't see the Attachments tab or paper clip icon?  Click here.
Double-click the file name to open the audio file.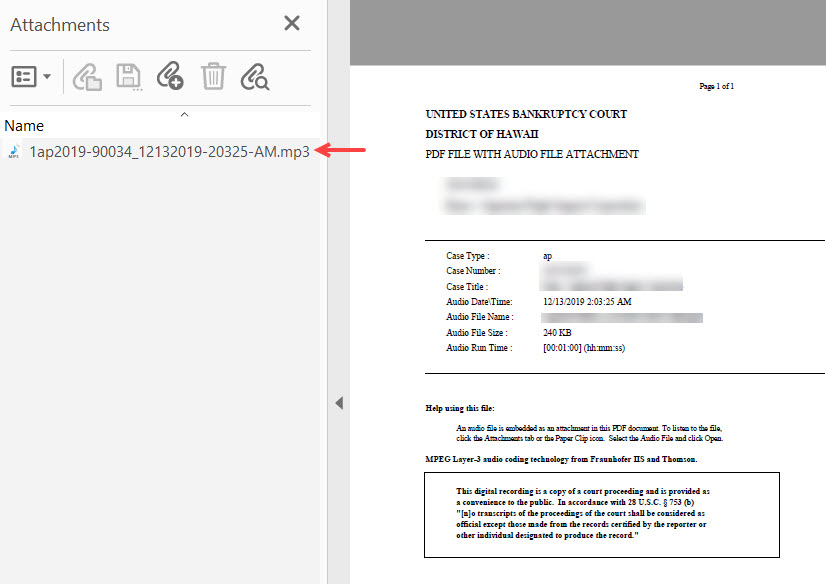 If this is the first time you are accessing audio files from PACER, you may receive a security message. Click Open this file or Always allow opening files of this type.
Your computer's default media player will open and begin playing the MP3 file.
Troubleshooting and FAQs
I don't have Adobe Acrobat on my computer. Where can I get it?
Download the free Adobe Acrobat Reader (get.adobe.com)
I'm looking at my PDF and I don't see the Attachments tab.
Press F4, then click the paper clip icon.  Or in the toolbar, choose View > Show/Hide > Navigation Panes > Attachments.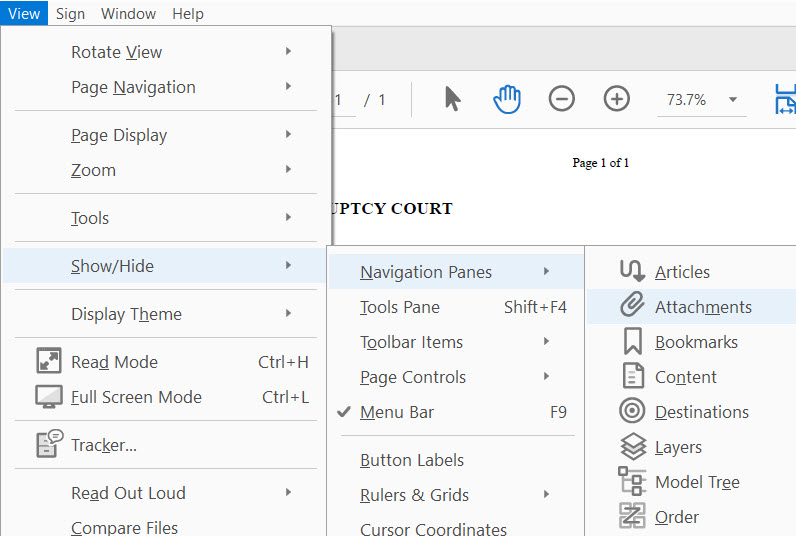 If you still don't see the paper clip icon, you may be viewing the PDF file within your browser.  You will need to download the PDF to see the paper clip icon.
I can't play the audio file.
Try the following:
Make sure your Adobe application is up to date.
Make sure your media player is up to date, and/or try with another media player (such as iTunes, Audacity, Real, etc.).
Make sure you can play regular MP3 files.
Try saving the MP3 file directly to your computer, then open it from there.
Check if anyone else is having the same issue.