Updated 12/1/2020
In General
Whenever a claim is transferred under terms specified in Rule 3001(e)(2), that is, other than for security and after a proof of claim has been filed, the purchaser/transferee must file evidence of the transfer.  The notice must state further that any objection must be filed within 20 days of the date the notice is mailed.  Form 2100A is designed to serve as evidence of the transfer.
The Bankruptcy Court will give notice of the alleged transfer to the seller/transferor.
Form
Transfer of Claim Other Than for Security (Official Form B2100A)
References
FRBP 3001(e)(2)
Step-by-Step Instructions
Select Bankruptcy > Claim Actions or Creditor Claimant Activity.
Enter Case Number.
Select 1Notice of Transfer of Claim (FEE 26).
Skip the Joint Filing screen.
Select the Party filer.  If the party is not listed, view instructions on adding a new party to the case.
The Attorney/Party Association screen displays if the association does not already exist. Carefully read the message in

red

.
Click Browse/Choose File and upload PDF.
Select the subject claim. 
Select Transferred as the claim status.
Carefully read the instructional message:
The transfer screen displays.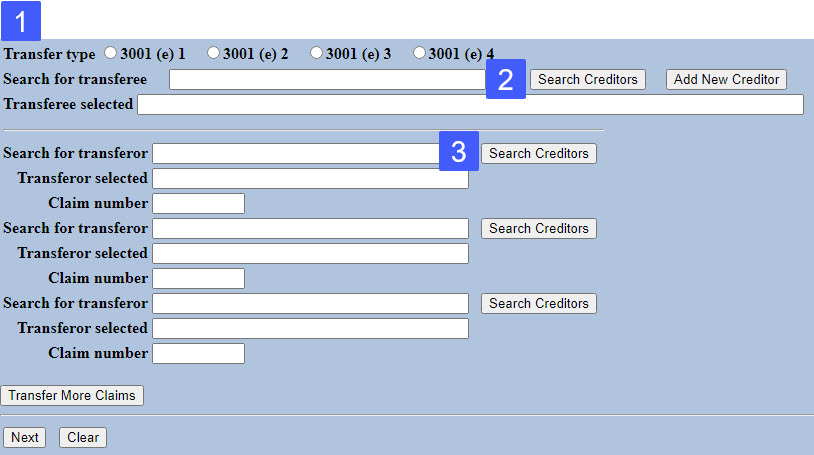 Select transfer type.
Search for transferee - Click Search Creditors and select transferee.
Search for transferor - Click Search Creditors and select transferor.
In the example below, Allan Attorney & Associates is transferring Claim 1 to The Credit Union.
Information regarding the court's policy regarding payment of filing fees display.  Read it carefully.
Modify docket text, if appropriate.
Verify final docket text. Click Next to complete the filing.
The Notice of Electronic Filing displays. This is the verification that the document has been electronically filed.
A Summary of current charges displays in a separate window.  Click Pay Now or Continue Filing.